The Netherlands voted to remain pro-EU and pro Green Deal.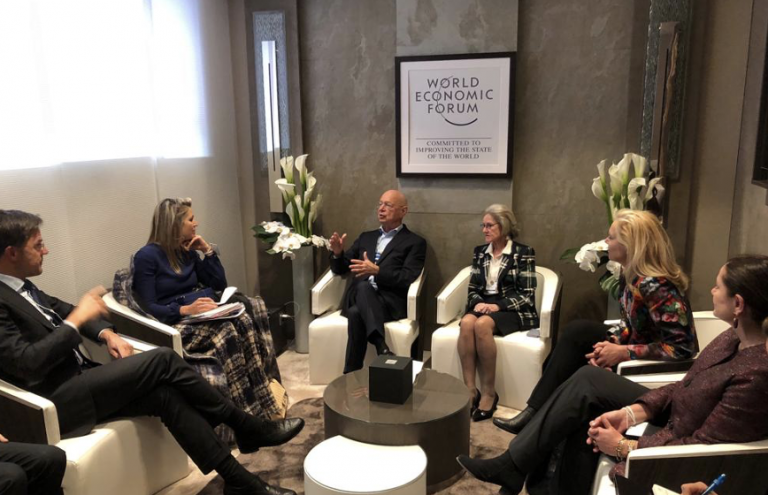 On the left Dutch prime minister Mark Rutte, next to him the Dutch queen Maxima and on the right (with blond hair) Sigrid Kaag, talking with Klaus Schwab at the World Economic Forum in 2019.
Two years ago the new political party Forum for Democracy (FvD) led by the conservative and flamboyant Thierry Baudet unexpectedly won the provincial elections in The Netherlands. Baudet is very sceptical about the dangers of climate change and is opposed to the Dutch and EU climate policies and this issue played a key role during these elections.
Soon after this remarkable victory (it was the first time FvD participated in these elections) a series of internal conflicts led almost to the demise of FvD. Although climate change is still an important issue for FvD, it was the response to Covid-19 that turned out to be the divisive issue this time. After original concerns for the threat of Covid-19 and support for an 'intelligent lockdown', in the course of 2020 Baudet changed his mind and became mainly concerned about the corona policies. The cure (lockdowns, curfews) is worse than the disease.
Baudet decided that 'getting our freedom back' should be the central theme in the national elections, held last week on March 15-17. This led to another split in his party leading to the birth of another party (JA21), which has similar views on climate change but less critical views on Covid-19. Both parties did well in last weeks elections, with FvD growing from 2 to 8 seats in Parliament and the new JA21 claiming three seats. On the left side of the spectrum another new party, the European pro-EU party VOLT, participating for the first time in a national election, also claimed three seats. VOLT is very popular among students and young professionals with a pro-EU, pro-climate but surprisingly also a pro-nuclear agenda.
Above these relatively small players the elections can best be described as a continuation of the status quo. Which in itself was quite remarkable. Prime minister Mark Rutte of the liberal VVD won his fourth national election in a row and is now one of the longest serving leaders in Europe. A few months ago he had to resign his cabinet after the childcare allowance scandal for which he and other ministers in the government took responsibility. The Dutch tax agency had unrightly accused thousands of parents of fraud in claiming childcare allowances, money they had to pay back immediately. Two MP's, one from the Christian democratic CDA and one from the socialist party SP, dug deeply in this issue and finally were found to be right. Remarkably, both parties were not rewarded for their investigative work and lost several seats during the elections.
So 'teflon' Mark Rutte (problems and errors just don't seem to hurt him politically) did it again and with 35 seats he remains by far the biggest party in the splintered political landscape of The Netherlands (17 different parties won at least one seat, a record only matched in 1918). Behind him Sigrid Kaag, leader of the pro-EU democratic party D66, also claimed victory with 23 seats, a near historical score for this party. Kaag is an Arabic-speaking (and five other languages) former diplomat who had many different jobs in UN-circles. Since 2017 she was the minister of Foreign Trade in the now demissionary cabinet.
On the night of her victory she said: "Dealing with the climate disasters can't wait." Although she never worked on climate change, it was a prominent theme in her campaign. Her party D66 is in favour a raising the EU ambition for 2030 from the now agreed 55% reduction to even 60%. In The Netherlands they want to abolish all energy tax exempts for large industries and they want to introduce an extra CO2 levy for the industry on top of the European ETS system.
D66 believes in a green recovery from the Covid19 economic crisis and it's therefore unsurprising that Kaag is also involved in Klaus Schwab's World Economic Forum. Prime minister Mark Rutte also talked prime time on Dutch television about the WEF motto Build Back Better.
So with these two parties likely being the core of the next government Holland clearly voted for a continuation of a globalist agenda. The picture at the top is striking in that perspective. The Netherlands will remain pro-EU and pro Green Deal. One of the few remaining battle grounds left seem to be nuclear power. The VVD is in favour of building new nuclear power plants as part of their climate agenda (The Netherlands currently only has one small nuclear power station in Borssele) while D66 is opposed.
But nationally opposition among civilians is growing against windmills on land, large solar farms and biomass. D66 is now focusing on a huge amount of windfarms at the North Sea combined with the production of 'green' hydrogen. So building new nuclear power plants or not will be a key decision for the new government.
So far Mark Rutte has shown few signs of being very principled. Being and staying in power seems to be his main motivation. So Dutch sceptics are afraid he will give up nuclear easily meanwhile accepting and even promoting the very ambitious EU climate targets. This means the Dutch population living in the countryside is up for some serious battles in protecting their land. Interesting times ahead.