© Clintel Foundation / Wednesday June 7, 2023
Clintel analysis of AR6 now also available as e-book and paperback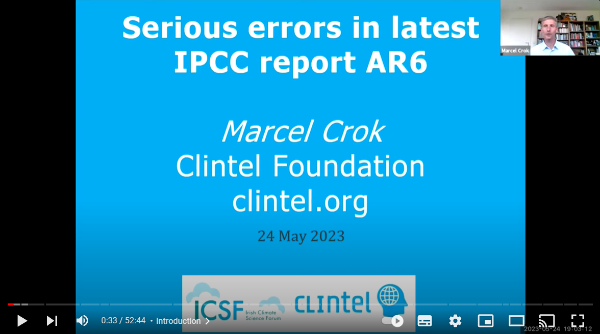 Our report  The Frozen Climate Views of the IPCC has been out now for almost a month. The attention by the mainstream media has been "net-zero".
Where are the good old times of Himilayagate when even rather exotic errors in the IPCC report were breaking news around the world, at the time leading to the review by the InterAcademy Council. We cover all this in the report.
Coverage of our report in the blogosphere and alternative media has been fine. WUWT, Judith Curry, Roger Pielke Jr all paid attention to it and Scott Morrison wrote several articles about it on the Daily Sceptic.
Andy May (co-editor of the report) gave a talk/interview about the report at the excellent Tom Nelson Podcast show. You can find the written version of the talk here and the full interview here.
Marcel Crok (co-editor of the report) gave a talk for the really interesting lecture series of the Irish Climate Science Forum (run by Jim O'Brien). In his talk Marcel gave an overview of the Clintel report.
Meanwhile, Marcel and Andy have worked hard to make the report available as e-book and paperback as well. Go to your favorite bookstore (for example Amazon) to order the book.
There are now several plans for translations of the book. If you want to publish a translation as well, please contact us at office@clintel.org.
Support
Please keep supporting this very important project. So far, we are the only group in the world who made a thorough analysis of AR6. We can only do this with your continued support. We need funding for the translations, for starting a media campaign and for writing new chapters about AR6. Also, following the publication of our current report, we are planning to produce a yearly Clintel World Climate Outlook.
Continued support comes from our now over 425 Friends of Clintel. We would love to see this network of Friends growing to 1000. To become Friend (a yearly donation of at least 100 euro) please go here. If you prefer to donate just for this project plese go here.
Thank you in advance for any support that you can give!
Open Letter from Clintel to IPCC chairman Hoesung Lee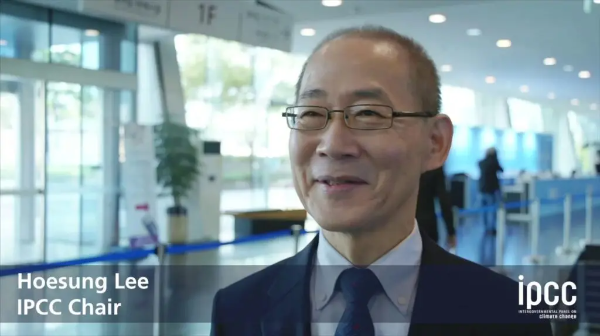 After the publication of our analysis of AR6 (see item above), Prof. Guus Berkhout of Clintel wrote an Open Letter to the chairman of the IPCC, Dr. Hoesung Lee: "We show that IPCC makes numerous serious scientific errors that overall reflect a bias in favour of 'bad news' and against 'good news'. The good news about disaster losses and climate related deaths was left out of the Summary for Policy Makers all together, for instance. Additionally, where AR6 has taken account of evidence that points away from a dismal, worst-case outlook, these findings are buried deep in the chapters and are not emphasized for the media or policy makers."
Berkhout concludes: "With all due respect Dr. Lee, seriously misleading the world on such an important subject and on such a large scale, is unacceptable for an UN organization that claims to be scientific. The errors and biases that Clintel has found in the AR6 report are worse than those that led to the 2010 IAC Review, indicating ongoing failure of the IPCC to live up to its mission."
Read the entire Open Letter to Hoesung Lee: here
Michelle Stirling of the Canadian Friends of Science read the letter on camera and possted the video on youtube  (also posted at the Clintel website).
CERES video explains IPCC models are also wrong about snow cover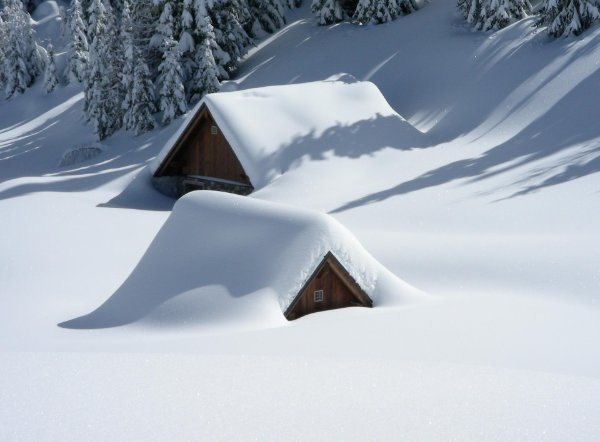 Researchers Willie Soon, Ronan and his father Michael Connolly recently released a new interesting video about the snow cover debate. Clintel covers this debate in chapter 4 of our report The Frozen Climate Views of the IPCC. The three scientists published a paper in 2019 comparing snow cover in climate models with observations. In the video they explain that climate models are unable to simulate observed trends in all four seasons. They also explain how the IPCC misrepresented their work. An interesting side note: the video was made by Ben, the eldest son of Willie Soon, as part of a high school project.
You can follow the work of Soon and the Connolly's at https://www.ceres-science.com/
Number of signees of the World Climate Declaration is still growing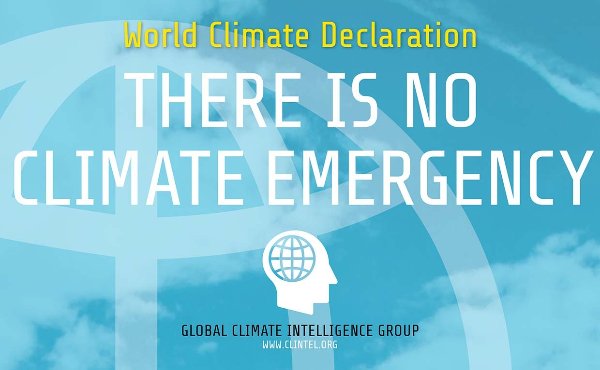 Since we reached the milestone of 1500 signees of the World Climate Declaration, the number of signees is still growing. Right now it stands at 1551. Read the list with (new) names: here.
The World Climate Declaration states that there is no climate emergency. Do you want to sign the World Climate Declaration as well? Go here.
We hava also started doing new interviews with signees. If you want to participate in such an interview (by email), please contact us at office@clintel.org.
Climate Uncertainty and Risk: A new book by Judith Curry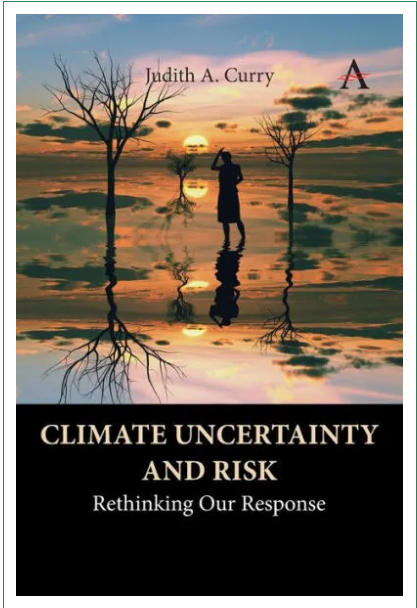 Today is the official publication day of a new book by Judith Curry: Climate Uncertainty and Risk, Rethinking Our Response. Clintel received a review copy of the book and in the coming weeks we will publish a longer review on our website. For now, here is the promo text used on Amazon and other booksellers websites:
"World leaders have made a forceful statement that climate change is the greatest challenge facing humanity in the 21st century. However, little progress has been made in implementing policies to address climate change. In Climate Uncertainty and Risk, eminent climate scientist Judith Curry shows how we can break this gridlock. This book helps us rethink the climate change problem, the risks we are facing and how we can respond to these challenges. Understanding the deep uncertainty surrounding the climate change problem helps us to better assess the risks. This book shows how uncertainty and disagreement can be part of the decision-making process. It provides a road map for formulating pragmatic solutions. Climate Uncertainty and Risk is essential reading for those concerned about the environment, professionals dealing with climate change and our national leaders."
Clintel is an Amsterdam (The Netherlands) based thinktank founded in 2019 by Dutch emeritus professor Guus Berkhout and science writer Marcel Crok. Clintel operates as a climate science and climate policy watchdog. In its first year it launched the World Climate Declaration, stating firmly "there is no climate emergency". That declaration is now signed by more than 1500 scientists and experts.
Clintel wants to be independent from governments as these are the main funders of climate science and policy. In practice it means we need broad support from citizens and small and medium enterprises around the world.
For more information, please contact Marcel Crok, +31 6 16 236275, marcel.crok@clintel.org
Want to subscribe to our newsletter?
Copyright © 2023 Clintel Foundation.
You can mail your reactions to this newsletter to office@clintel.org