© Clintel Foundation / Thursday April 28, 2022
Huge milestone for CLINTEL: One thousand signatories of the World Climate Declaration!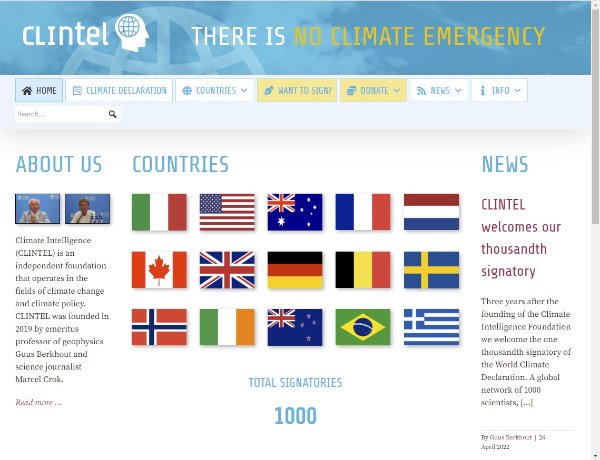 This week CLINTEL, the global network of scientists and other experts reached a huge milestone. We welcomed the thousandth signee of the World Climate Declaration. Guus Berkhout, president of Clintel, wrote this article to celebrate this moment.
David Siegel
We are honored to announce David Siegel as the number 1000 of our impressive list. David is an inspiring author and entrepreneur who has been following the climate debate for a long time. He recently put a very interesting 40-minute talk online assembling knowledge from a lot of scientists in the CLINTEL network. That talk is a must watch. We also did a very nice interview with David.
We now have signees from over 40 countries and we have translations of the World Climate Declarations in most of the big languages (except Chinese, who is willing to translate it into Chinese?). Visit your country on our homepage and see who is on the list.
Next?
Now we have reached 1000 let's look up and become a little more ambitious. Next goal is 10,000! What can you do? You probably all know someone who would also be interested to sign the declaration. For signing go here.
Friends of Clintel
Few of the signees are also Friend of CLINTEL. As a friend, you support the Clintel Foundation with 100 euros a year. If all the signees become Friend of Clintel, then we have a better financial position to start working on another important Clintel project: making a series of short film about climate change, aimed at the general public.
World Climate Declaration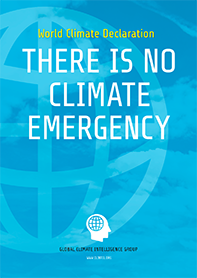 On April 26, 2022 we have welcomed our 1000th signee Mr. David Siegel from the USA
David Siegel, USA,  author, entrepreneur, critical thinker, communicator (1000th signee).
Watch his excellent talk about the climate debate.
Read his weekly climate blog.
Follow David on twitter.
Other new signatories
Dr. Michael Creech, Australia, lifetime active as Geologist; Dr. Creech informs the public by giving presentations on Climate Change
Jaak Peeters, Belgium, Psychologist and Writer
Bogdan Kasprzak, Canada, Professional Geoscientist, life time experience in data modelling, data analysing and data interpretation
Serge Monier, France, former manager of various multinational companies, at present Co-founder and Treasurer of 'Climat et Vérité'
Dr. Holger Thuss, Germany, President EIKE Institute
Dr. Dezso Csejtei, Hungary, retired professor of philosophy at the University of Szeged
Dr. Jan W. Drukker, the Netherlands, Emeritus Professor Industrial Design Delft University of Technology, University of Twente and (Visiting Professor) Tsinghua University (Beijing PRC). Elected Member Regional Parliament of the Dutch Province Drenthe
Dr. Hans Borge, Norway, Associate Professor in Mathematics, University of Stavanger
Dr. Glenn K. Wakley, UK, Emeritus Associate Professor Biological Science,  Fellow of the Royal Society of Biology and member of The Anatomical Society
Want to sign as well? Go here
CLINTEL is an Amsterdam (The Netherlands) based thinktank founded in 2019 by Dutch emeritus professor Guus Berkhout and science writer Marcel Crok. CLINTEL operates as a climate science and climate policy watchdog. In its first year it launched the World Climate Declaration, stating firmly "there is no climate emergency". That declaration is now signed by more than 990 scientists and experts.
CLINTEL wants to be independent from governments as these are the main funders of climate science and policy. In practice it means we need broad support from citizens and small and medium enterprises around the world.
For more information, please contact Marcel Crok, +31 6 16 236275, marcel.crok@clintel.org
You can support us by becoming Friends of CLINTEL or you can make a one-time donation. Many thanks in advance for your support!
Want to subscribe to our newsletter?
Copyright © 2022 Clintel Foundation.
You can mail your reactions to this newsletter to office@clintel.org